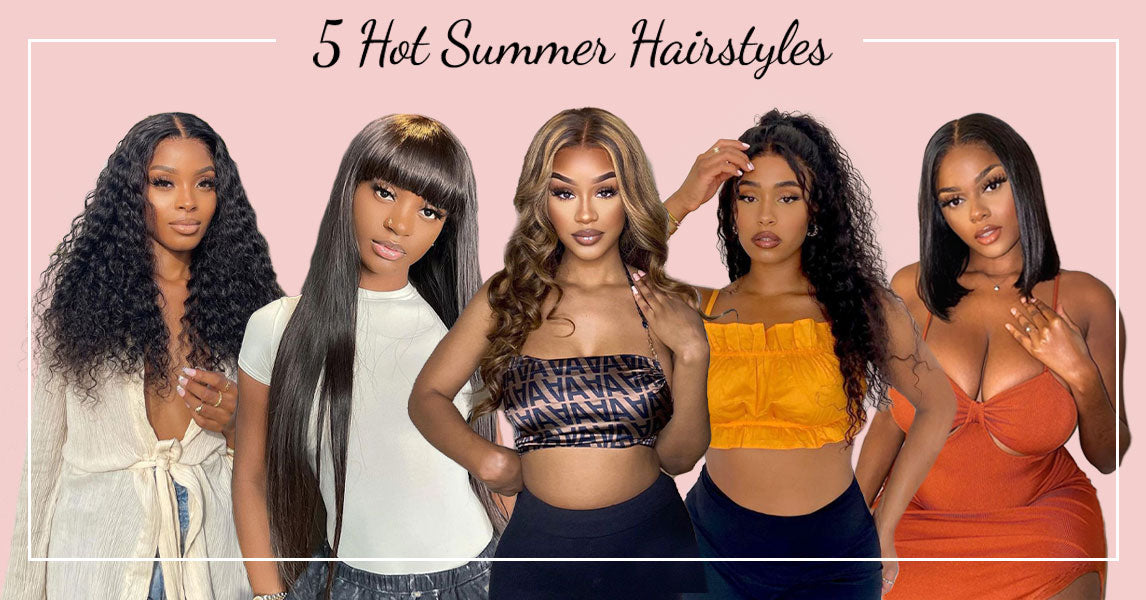 We all want to be special in all seasons, we love new, and we try new ones! Summer is the best season to show girls' beauty, wanna to be gorgeous in the hot summer? Perfect summer hairstyles will give you more confidence and make you be the queen. However, in face of the hot heat of summer, are you ready for your go-to summer hairstyle? If you don't have one yet, don't sweat it because we are here to help you out with these 5 hot summer hairstyles that you can recreate yourself! These looks will instantly make you feel lighter and more relaxed during the summertime.
1. Perfect Ponytail
The perfect summer ponytail is a no effort look that suits all hair types. It is the ultimate hairstyle on a scorching hot summer day or for your second-day hair. 
2. Half Up, Half Down Hairstyle
For all you naturally curly and wavy haired beauties! This half up, half down hairstyle is an effortless look that can be paired with any cute summer dress. Not to worry, if you have straight hair, you can also curl it first to recreate this look. A lace front wig will be a nice choice to make this hairstyle.
3. Beach Waves
This one is for all the babes with long luscious locks. Beach waves are the perfect undone summer hairstyle for you! It definitely screams effortless and chic at the same time. Achieve this look with a curling wand or if you are looking for a body wave wig, junodawig will give you more choices.
4. Long: Sleek All Over
Who said you cannot get the best of both worlds? Long hair is not the easiest thing to deal with in the summer, but its length means you have an arsenal of updos at your disposal. If you're looking to have a long hairstyle, there's no better time than the present. Layered haircuts with long layers are gaining popularity, as long layers allow for a large number of different styling choices. What are you waiting for, go check the long hair out now!
5. Short Bob Wigs 
If you're tired of the long hair, cut it! Look at Rihanna and Taylor Swift's short hairstyle, it offers timeless beauty and elegance. Bob hairstyles seem to have endless variations that can be created depending on one's facial structure, any woman is sure to find a style that suits her best. Junodawig also offers different short bob wigs, there must be one you like.
There's no better way to celebrate the beginning of summer than with a fresh new haircut. No matter what is your summer style, remember to share with us on Instagram @junoda_wig. For more beautiful hairstyles please visit junodawig.com to get know info.
---