All You Need To Know About Bob Wigs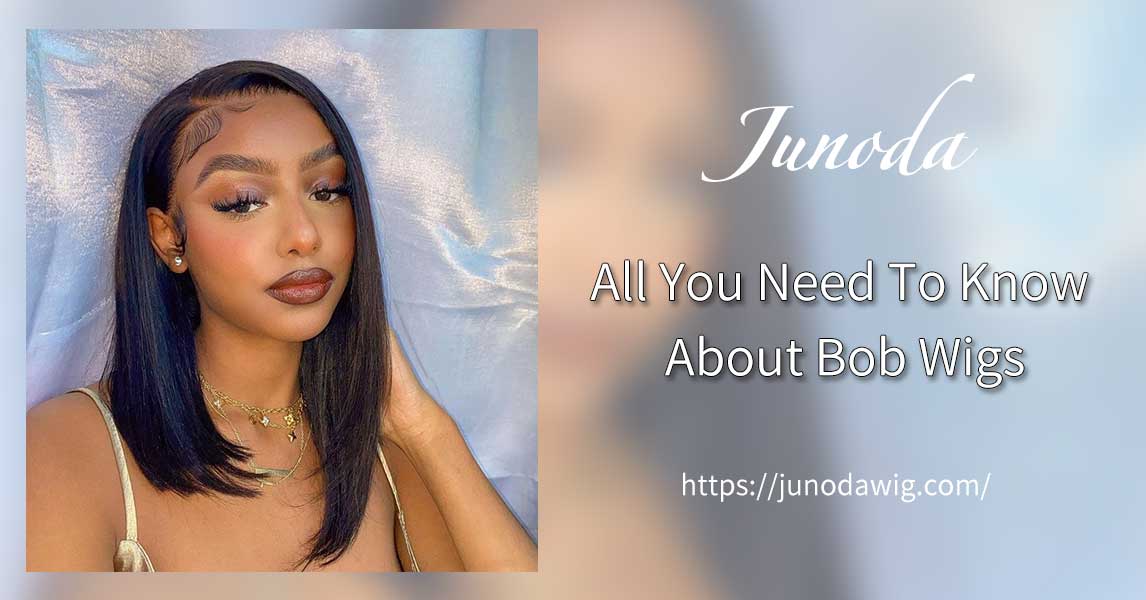 There are all sorts of bog wigs styles for every woman and all that's needed is to choose the most suitable one. Finding it difficult to make a choice? Not to worry, human hair bob wigs today come in different styles, lengths, and colors making it easy for everyone to make a choice. For every face shape, there is a bob wig hairstyle that is a perfect fit. 
In this article, we have researched and compiled some of the different bob wig hairstyles, the face shapes to which they fit perfectly, how to take care of your bob wigs, and more. 
What Is A Bob Wig?
A bob wig is one that is cut in a straight line either slightly above the shoulder or a bit off the shoulder. This is a wig that is loved by women of all ages. This hairstyle is for girls who like short hair. It is not only suitable for girls who like cute styles, but also very suitable for cool girls. you can actually style your bob wigs into any style you like. And you can also find medium and long bob hair wigs. We will give you the most detailed knowledge about bob wigs.
Why Do We Choose Bob Wigs?
Bob wigs have always been popular among different styles of girls. Then why are they so trendy? Here are the features and advantages of bob wigs.
1. Natural Look
All the bob wigs in Junoda are all made of 100% human hair, which can give you the most natural hair look. Besides, there are many different kinds of bob wigs for you to choose from, such as middle part bob wigs and side part bob wigs. Wearing a human hair bob wig, you can get your dream bob hair look.
2. High Quality
Because the bob wigs are made of human hair, they are more durable than synthetic bob wigs, which means you can style it with your hot tools. And only if you condition your bob wig carefully, it can last for one year.
3. Unique Hairstyle
Different from common straight hair, bob wigs create delicate unique hair ends. This helps to shape your face and makes you so cute and energetic. And you can play with your imagination on it to combine bob style and other hairstyles, such as wavy hair. A wavy bob hair look is also very charming. In addition, bobs wigs are particularly lightweight and comfortable to wear, keeping your neck and shoulders cool in the Summer heat.
4. Low Maintenance
Short bob wigs are very suitable for hot summer. Because they are easier to condition and style than long hair wigs. You can spend less time and save a lot of energy. And many girls prefer short hair in the summer heat. Therefore, bob wigs are really good options this summer.
 Types Of Bob Hair Wig Hairstyles 
The bob wig hairstyle is one hairstyle that is here to stay, for a very long while and maybe forever. It is one of the few hairstyles that have remained in vogue since its inception. It is classy, comfortable, chic, beautiful, and depicts boldness. Human hair bob wigs turn out to be one of the best hairstyles for summer because of how comfortable and long-lasting they are. 
Here are some of the types of bob wig hairstyles
1. The Layered Bob Style Wigs 
For women who like to stand out or make fashion statements, this is a perfect choice. Just as the name implies, these types of wigs are made of strands of hair with variable lengths and sometimes colors. The perk of this hairstyle is that it helps highlight your head shape and also accentuates your facial features. For women who are bold and would love something adorable, layered bob wigs that have a longer length at the front and around the face and a shorter length at the back or around the neck are great. You can style this the way you want to achieve your desired look.
2. The Short Bob Wigs 
Once a woman hears "bob hairstyle", this is the first hairstyle that comes to mind, this is because, and it is one of the commonest bob wig hairstyles. Would you like to achieve a youthful, chic, and bold look? Then this is what you need. Most short bob wigs are quite full and serve as a perfect choice for women who have not-so-full hair. They are several variants of short bob wigs and each of them gives additional special effects. 
These short bob wigs could be straight, blonde bob wigs, wavy bob wigs, or even bob wigs with bangs. Some of its special effects could be highlighting facial features and so on. 
3. The Long Bob Wigs 
A bunch of women hardly know that a bob wig could belong. Long bob wigs are a suitable choice for individuals who like to have long hair on or aren't bold enough to cut their hair short. The long bob wig gives you to chance to achieve almost the same look as a short bob without the need to cut as much hair off. This bob wig style also comes in different variants, straight or wavy bob wig, blonde or black bob wig (although, it could come in several other colors). 
The long bob wigs also give you a young, graceful and classy look, even without your makeup on.
How To Choose A Suitable Bob Hairstyle For Your Face Shape
Your face shape plays a major role in choosing accessories, applying some makeup, and also choosing hairstyles. When trying to choose the perfect bob hairstyle, your face shape is very important. Here are some face shapes and suitable hairstyles for each shape.
1. Round Face
For round-faced women who would like to make their pretty faces look a bit longer, long bob wigs are a perfect choice. Well-made bob wig hairstyles which are chin length or a bit shorter and parted to the side, are also a perfect fit for round-faced women as they accentuate their facial features and make them look younger.
2. Square Face 
Most women with square-shaped faces like to choose hairstyles that would soften their facial features such as their jawlines and square face. For women like this, curly bob wigs just below the chin, bob wigs with moderate bangs- preferably at eye level, and layered bob wigs with unequal hair strands around their face would be perfect choices. It is also advisable to stick with side parting as this also contributes to the effect.
3. Oval face 
Women with oval faces are quite the lucky ones because of the versatility of their faces. This category of women can put off any bob wig hairstyle of their choice and be creative with it. 
4. Heart-shaped Face
Women with this face shape usually have beautiful and prominent cheekbones, narrow chins, and wide foreheads. Fluttery bob wigs and bob wigs with a one-sided bang, longer than chin-length are great choices. These hairstyles help reduce the wideness of the forehead, create an illusion of fullness at the lower part of the face and also help to fit u their cheekbones. 
5. Oblong Face 
Women with oblong faces have several choices to choose from. Bob wigs with bangs and mildly wavy bob wigs which are chin-length are great choices for this set of women. Getting the right hairstyle and the perfect cut could create an illusion of an oval face from an oblong face. 
How Do You Take Care Of A Bob Wig?
Just like our natural hair, wigs also need careful care. And because the wigs lack the protection of our scalp, you should pay more attention to their condition. You can follow the steps to care for your bob wig.
1. Brush Your Wig Gently
First and foremost, the hair of your bob wig is non-renewable. Therefore, you have to be as gentle as possible when combing it to prevent much hair shedding.
2. Wash You Wig In Time
When you take off your bob wig, please wash it in time. Otherwise, it will get moldy because of the leaving sweat and grease. And we suggest washing it with cold water and wig shampoo.
3. Apply Hair Conditioner
A wig conditioner is also essential to protect your wig. Apply the conditioner evenly and gently work it through the hair in a downwards motion from the mid-shaft down to the ends avoiding the base and root. Applying conditioner to the base may cause shedding. And leave the conditioner in your wig for 3-5 minutes, and then rinse it out with cold water.
4. Dry Your Wig Naturally
After washing your wig, use a towel to wrap and stress the wig to remove the excess water instead of rubbing the hair strands. Otherwise, your wig will be messy and coarse. Then place it on a ventilated balcony to air dry it. If you have to make it dry quickly, please turn down the temperature to avoid heat damage.
Tips For Choosing A Suitable Bob Wig
If you want to get a bob wig, then the following factors are what you need to consider.
1. Make Your Choice 
Given the shape of your face, it should be easy to decide the bob wig hairstyle you would like to get. Once this is done, you can check online or offline stores for your choice of bob wig. It is important to note that these wigs could either be synthetic or natural and that natural hair wigs are a bit more expensive compared to synthetic. Also, it is important to put into consideration, the length, and color, style of your choice, lacing- lace front wigs or full lace wigs. Ensure to get one within your budget.
2. Your Head Circumference Is Important 
Before choosing any bob wig, you must have your head circumference at the back of your palms. You could measure the size of your head using tape. To measure, wrap the tape around your head starting from the center of your forehead, to the base of your skull and back. While doing this, the tape must stay above your ears.
3. Try Out The Bob Wig 
Trying on your preferred wig to see how it fits is one of the key steps to choosing a perfect wig. Doing this, enables you to choose a comfortable and well-fitting wig. For individuals who shop online, your seller must have good return policies, so you can return and exchange your bob wig for a better one. Although some wigs come with adjustable caps, it is important to get one that is at least close to your head size.
4. Securing Your Wig 
Whether you like to wear something under your wig or not, everyone likes to feel secure when they have their wigs on. There are different ways to keep your bob wigs in place when you have them on, through wig caps, wig grip bands, metal wig clips, bobby pins, double-sided tapes, and glue. When choosing either of these, make sure you choose something comfortable and adjustable.
Conclusion
Bob wigs hairstyles are perfect for every woman out there, all you have to do is choose the right bob wig style for yourself. Once this is done, you are on your way to achieving a fabulous and charming look. You can just shop Junoda bob wig from the online stores as there will be more styles and choices to choose from.
---