How To Choose The Most Realistic Human Hair Wigs
Most realistic human hair wigs can help you create a perfect look, and the quality is also an element to take into account when you choose to buy a human hair wig. Wigs that look real can improve your temperament and let people believe the wig is grown on your head.
How To Choose The Most Realistic Human Hair Wigs
Choose a 100% human hair wig
The most realistic wig hairstyles must be a wig that is made of 100% human hair. If you are choosing a synthetic wig that you wear daily, the wearing effect will be far less than a human hair wig. All the human hair wigs from Junoda are made by hand hook workers using crochet hooks on lace. The high manual costs and long construction time, it is one of the reasons why human hair wig products are expensive.
Choose the most realistic wig lace
A good lace in an invisible color can also influence the degree of realism. There are many types of wigs for you to choose from: dark brown lace, medium brown lace, light brown lace, transparent lace, and HD lace. Of all these laces, the most realistic must be the HD lace and the transparent lace. So, you can see all of our wigs are made of transparent lace and HD lace. After testing, these two laces can best melt with the black girl's skin tone, to create the best real looking wigs.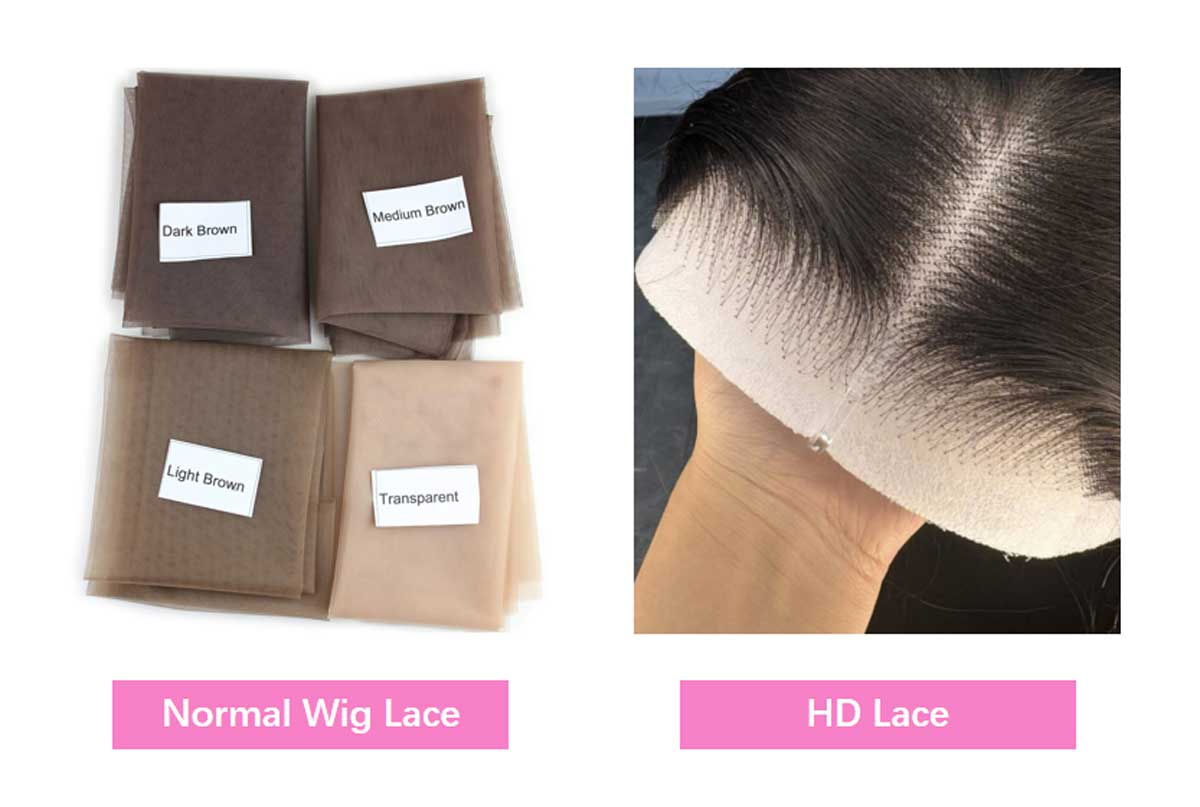 Choose a pre-plucked hairline wig
Choose a pre-plucked hairline wig, you will not need to treat the hairline, which is time-consuming and also easy to make mistakes. After all, the wig is a manufactured good, it will not restoration prototype if you have a wrong pluck by yourself, so the best choice is to let Junoda help you, to give you a nice wig that is already pre-plucked. As you can see in the picture, a pre-plucked hairline wig can help you get the most realistic look. By observing your own hairline, the hair density is not always neat, there must be very dense somewhere and very sparse in that place, so we simulate the growth of real human hair and let the wig become the most realistic wig.
What Are The Types Of Wigs That Look Real
Glueless closure wigs:
With pre-plucked natural hairline, pre-cut extra lace, and even pre-bleached, the glueless wigs can be the most realistic looking human hair wigs. Wear and go wigs can also be a new wig style trend that is popular among girls due to its real wearing effect and convenient installation.
The colored wig is also very realistic, Junoda newly launched the wear and go colored human hair wigs. Apart from this, you can try many of our wig hairstyles in our store, the effect and the quality will amaze you.
Lace frontal wigs
Lace frontal wigs are a good option if you are looking for the most realistic human hair wigs. The lace frontal wig has the largest 13×4 inch transparent lace and can help you cover all your own hair, there will be no concern about whether the hair will exposed to the outside. Using glue to install a lace frontal wig, can also help you get firm and realistic wig hairstyles. Although it is not as convenient as the wear and go glueless wigs, they both have advantages and disadvantages.
Short hair wig
If you are bored with your everyday long hairstyle, try this new wig hairstyle: short hair wig. I personally recommend the pixie wigs. This is a new and hot wig type this year, This hairstyle can be cool and cute, it is wholly due to your clothes and makeup matching. If you have not already tried it, this is a good chance to have a realistic human hair wig.
U-part wig
Upart wig is a machine-made wig, but it can also create a natural and realistic wig-wearing effect. You can buy any hair texture you like; the hair curl is just like the look at the barbershop. By wearing this U-part wig, you will not worry about the realistic degree of the wig, and you can create a natural look by using your own hair. It can be magical wig hairstyles, try it now.
Why Human Hair Wigs Are More Expensive?
The making process of one wig is very complicated, for example, a deep wave wig, to create such wig hairstyles will through a complex series of steps, concluding with selecting the human hair, cutting the lace, hooking the hair on the lace one by one, sewn hair cap, and style the hair, can create a nice wigs for customers.
All the processes are through careful making and strict monitoring procedures, to create a delicate and high-quality wig, that can be side to be a nice wig, the most realistic human hair wig. Unlike the inferior wigs of some merchants, the rough edges and threads produced by the rough production process will make the wig look fake. Junoda can ensure you a 100% human hair wig and the most realistic wigs.
Final Words
All the most realistic human hair wigs are in Junoda Wig store, come and pick now! If you ever have a bad wig-shopping experience, our wigs can change your misconceptions about the wig, because it is really realistic and good in quality.
---